How David Schlais Left His 9 to 5 Jobs To Start A $50K/Month Marketing Agency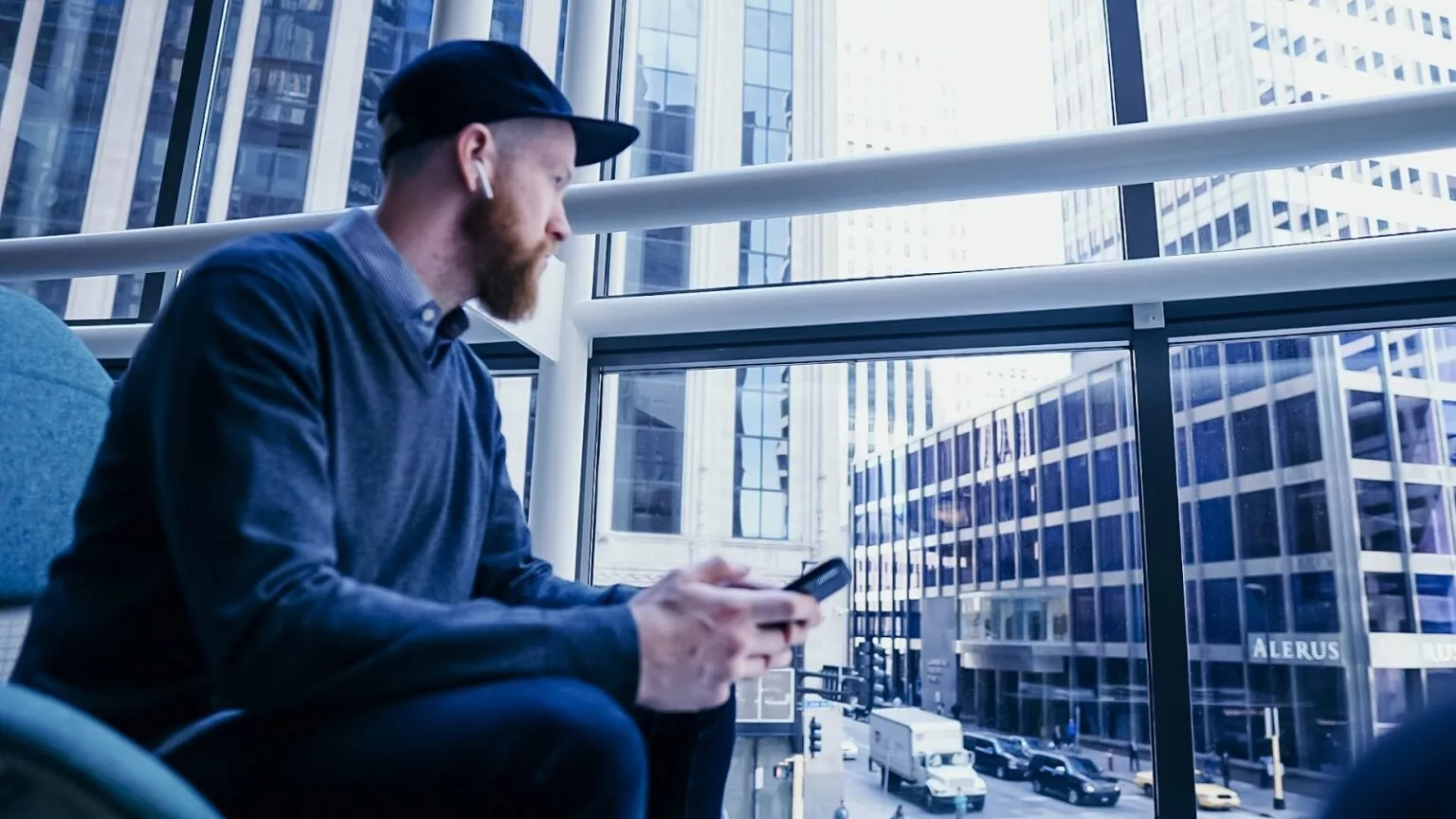 Hello! Who are you and what business did you start?
My name is David Schlais and I am a co-founder of Vital Traffic Labs, a social media marketing agency with a core focus in paid social advertising as well as lead generation. We work with a variety of local businesses as well as eCommerce brands, tech start-ups, and more – helping them sustainably grow their businesses!
We make pricing simple for our clients by providing a flat monthly fee to run paid advertising campaigns for them on platforms like Facebook, Instagram, Reddit, YouTube, LinkedIn, and more. We also provide other services like email marketing, landing page creation, content creation, and more – but these services are offered as a solution to make our paid social advertising efforts more successful. As an example, if your Facebook page or website is not up to par for us to know that we will have success with our advertisements, we can help you with this so that we can all win.
We started small and left our 6-figure 9-5 jobs after only a few months in business because we knew that with our revenue growth trajectory we could fully replace this income in short measure if we had all day every day to devote to the business instead of only a few hours every night.
Today we have grown to between 50-60K in monthly recurring revenue, depending on any set-up fees, one-off services, etc. and it has been an amazing ride to get to this point in only 3 short years. I would attribute our success to putting clients and quality of work first so that we can focus on limiting churn while scaling to new clients and new opportunities.
What's your backstory and how did you come up with the idea?
My personal background is in B2B enterprise sales, and at my previous employer, things were going great for the first 2.5 years that I was an employee there. I moved up quickly, was promoted twice, and actually had the opportunity to build out a team. Unfortunately, one day that all changed and I realized that I was deeply unhappy, and after years of trying and failing to start businesses online I thought that maybe it was time for one more go.
The company I was working for announced that it was being acquired, so I decided to give my old friend Derek a call. Initially, I pitched him on starting a recruitment agency together (both of us had started our careers at an executive search office together). He said that he would think about it, and actually came to me with the idea for an SMMA (Social Media Marketing Agency).
He was working for one of the largest marketing firms in the world and had realized how massive their margins were for delivering mediocre work.
With almost no real social media marketing agency experience (Derek had been on the sales side at his agency, not actually delivering services), we set up our agency in one day on a weekend. We decided to give it our all, and in less than two weeks we had our first client paying us $2750 per month. The rest was history, we were hooked. We focused on getting more clients, and started growing from there!
Take us through the process of designing, prototyping, and manufacturing your first product.
The beauty of the SMMA/Social Media Marketing Agency model, and what immediately attracted me to it, was the almost non-existent start-up cost. We incorporated directly through the state, got a free business checking account, set up a website for $8 per month, bought a domain for $11 and we were in business for less than $200 total.
This, for me, was the exact opposite of other businesses that I had tried starting in the past. I had tried starting a subscription box company ($1,500 invested and lost), blogging, starting a database of record labels and AR rep's for aspiring musicians (what became an impossible task after investing all of my free time for almost a year), and more – none of which never made me a dollar.
Additionally, making a significant amount of capital in such a short amount of time is what really motivated us to keep working hard at it. We were both working grueling sales jobs, and although we were both having success at it we wanted the digital freedom that an online business would provide. We spent a lot of time giving thought to business models that we could build that would enable us to have location independence and the SMMA model just seemed to fit that mold so well.
In the first year of business, Derek and I were delivering almost all of the work that we were providing to clients. While we were excited to be working for ourselves, we realized that we were basically two freelancers that were working together. If we really wanted to grow, we needed to increase our average client retainer and we needed to start building a team.
We decided to give it our all, and in less than two weeks we had our first client paying us $2750 per month.
We initially started with an intern which did not work out, then we tried hiring a media buyer (quite expensive for a first hire) – who did not perform, before realizing that we were taking the wrong approach. We decided to hire a VA who could take on the time-intensive tasks that we were performing that took the least amount of training but were taking up the most of our time.
A week after we made our first hire, things really started to change. We had so much time back in our day, and we were able to once again focus on growing the business. This allowed us the runway and bandwidth to bring on some larger clients, which gave us the margins to start building a team. Today, we have a team between 7 and 10 members on any given day depending on the client's workload.
While with a product business you are spending a lot of time prototyping and creating different sample products before you are ready for prime time – I would say that our first year or so in business was a similar process. It was trying a lot of different things before we got the formula right and were able to start building a business that was ready for the big leagues.
You can actually watch the entire journey of us getting the business off the ground at our 2GuysBuildABiz YouTube channel. You can see before we ever left our jobs, our first client site visits, the biz dev grind, and more. It really can shed a light on what it took to get the business going and our mindset at the time that we left our jobs for good.
Describe the process of launching the business.
Getting started for us was very simple. We incorporated, set up our website, brand, and other housekeeping items in one weekend. We wanted all of that stuff behind us so that we could focus on obtaining our first clients. Given that we both come from sales backgrounds, the natural thing for us to start doing was cold calling and cold emailing businesses. We didn't want anyone to come to us and still don't.
We had our first client in only two weeks, and the next ones weren't far behind. We started our business in November of 2016, so I remember New Years came up quickly. We had a few clients, but we wanted more – so Derek and I actually took advantage of New Year's Day, and locked ourselves in my apartment's common area for what must have been 8 hours. We dialed all day, and we actually got three clients from that session that are still clients to this day!
A question that I get asked a lot is how we started the business when we were both working 9-5's. As sales professionals, we actually worked much longer hours than that, and I remember using airplane wifi on my way to visit clients so that I could be sending out emails trying to grow the agency when I was on the road. You just have to commit to what you are working on and the time will show itself. If you want to be successful you are going to have to walk away from distractions like Netflix, happy hours, in-flight movies, and all the other things that are eating up time that you can use to be productive.
We originally started our business as a side hustle to make a few extra thousand dollars a month, as well as to be a bit of a safety net. We both had some instability in our jobs as the organizations were going through some changes and we wanted to be in the driver's seat of our lives in case anything out of our control took place. However, once we got that first client booked it was game over. We took a good hard look at the numbers and decided if we gave it our all we could be out the door in 6 months or less and we were able to actually do that.
Since launch, what has worked to attract and retain customers?
The single biggest growth engine for our business has been our own sales efforts. We have never focused on referrals or inbound traffic to grow our business. We started out by cold calling as much as we possibly could – eventually over time we have started getting a good amount of referrals in addition to our agency partnerships which has also been a profitable avenue for us.
If you can learn to sell, you can pretty much start any business that you want that is offering a product or service to other businesses. More and more businesses need marketing services and social media growth strategies, and if you can paint a picture for them on how your offering is going to help them close revenue gaps in their current business they are going to say yes to you every time. Most people are afraid to pick up the phone or send cold emails, which kills their own growth.
We have a few different methods that we use to get clients today as we have gotten busier and don't have as much time as we did in the beginning to make high volumes of cold calls. Today we leverage mass emails and send semi-customized email blasts out to our target prospects. We also leverage LinkedIn quite heavily, as we have started to go after much larger prospects, and this has helped with a predictable pipeline of new opportunities.
At the end of the day, client acquisition is an all hands on deck approach. Even though we are getting business through referrals at this point, we are still doing a large amount of prospecting and cold outreach ourselves.
This pic is when we got to 20 clients, a goal that we had from the beginning. At this point, we actually realized that the workload was entirely too high for us to handle and needed to take a step back to be able to increase our average retainer while reducing our workload. It was a huge achievement, meant that we had officially replaced our old income but was not sustainable and our next challenge was getting our client roster in order so that we could keep our quality of work at a premium.
How are you doing today and what does the future look like?
Today we couldn't really be happier with where the business is at. Our margins are incredible as we have a small distributed team of contractors that love working with us. Our company culture is great, and we have a morning meeting every day to really get the team excited about what we are working on. We are in a position where we don't have to work with every prospect that comes our way if we don't see eye to eye or if they don't seem like a fit for our agency, which has really given us a lot more freedom and relieved a lot of pressure from the first 12 months that we were in business.
The future looks great, the industry is only growing and more and more businesses are waking up to the fact that they need to either get with what is happening in social media or be left behind. That makes it easy for us because we are no longer needing to educate them on what social media is or it's power, we just need to map a strategy to their needs and have it make sense!
Through starting the business, have you learned anything particularly helpful or advantageous?
One thing that I would have done earlier is to start building a team / attempting to outsource faster. We ended up getting burnt out early on, which could have been avoided or pushed out longer if we had some more people supporting us on our team. At the end of the day though, it wasn't the end of the world and perhaps it was for the best because when we first started the process we went about it the wrong way.
Initially, we tried hiring for the most expensive roles first that were our profit centers, instead of for inexpensive roles that would give us more time. What we realized is that for a very low hourly rate we could actually give ourselves a lot more time back in our day to work on other things and further scale the business, which would free up capital to hire for higher ticket positions.
This dramatically reduced our risk, kept our margins healthy, and enabled us to scale 5x over in only 12 months. Getting the right team in place has been a game-changer for us, and we never would have been able to scale to the level that we have been able to today.
We tried hiring from a number of different places in the world but found that European countries that are developing quickly, as well as South American countries, have been the place to go.
Additionally, using work tracking solutions like Hubstaff or UpWork has been incredibly useful for managing cash flow and having visibility to what the team is working on.
Additionally, as the team is entirely remote – that brought its own set of challenges. We hired a project manager and added a morning meeting when this started to become an issue. This allowed us to start to create a company culture where we could get the team excited and aligned on the mission, even though we weren't able to sit in the same office every day.
Another major learning that I didn't expect early on is that all of your clients are not going to pay on time. This was particularly frustrating. It can be a massive hindrance to growth if clients are not paying in a timely fashion, and this brought with it a lot of challenges and frustrations early on. We learned to not expect timely payments from everyone and worked that into our cash flow projections so that we were prepared if a client was having an issue making a payment on time. Most businesses fail due to cash flow issues, and I am glad that this is a lesson that we learned very early on.
What platform/tools do you use for your business?
We use a number of different platforms today: We use Slack for team and client communications, G Suite for an amazing online experience and to keep things organized and share internally and externally with clients, TickTick for list and project management, UpWork for freelance workers, Lightroom, Premier, YouTube, Bill.com and Stripe for invoicing, LinkedIn pretty extensively for prospecting, and a lot more but these are our daily drivers!
What have been the most influential books, podcasts, or other resources?
Gary Vee's podcast was huge for us when we were getting started. When I was still employed full time and building the business as a side hustle it was hard to work a full day as a salesperson or be traveling all the time and still have the energy to work on the business. Gary V's podcast was my saving grace. I would throw my headphones on and listen to him while I cooked dinner and somehow I always found the motivation to get done what needed to get done.
The 4-hour Workweek was huge as well, I remember that was what originally made me think of what was possible outside the normal 9-5 job. Tim's podcast is incredible as well.
The $100 start-up was a great book that really just showed how inexpensive it can be to start a business.
Expert Secrets and DotCom secrets were game-changing when it came to starting our personal brand and building our course TheSMMABlueprint to start having an impact outside of our own business!
Advice for other entrepreneurs who want to get started or are just starting out?
Just get started. There is literally no excuse to not have a business or side hustle in this day and age. Go to YouTube, buy a course, read blogs, just figure out how to get started and don't ever stop if that is something that you truly want to pursue.
All of my failed ventures and decade of research since I first read The 4-hour Workweek on how to start a business online all came to a head when we started our agency. All the things I had learned became the skills that I needed to get THIS business off the ground and to actually make a ton of money – even though none of my previous ventures made a dime.
It can be easy to look at people making a lot of money online and think that it is a scam or only for a certain type of person, and it is. It is for people who don't stop working on it – that is really all that it takes. I was extremely discouraged after my previous ventures, almost to the point of not wanting to try it again – but this one worked out. Your pot of gold and freedom is out there somewhere, but you will never find it until you start looking for it.
Where can we go to learn more?
If you have any questions or comments, drop a comment below!
David Schlais, Founder of Vital Traffic Labs