How I Started A $5M/Month Law Firm Focused On Personal Injury Cases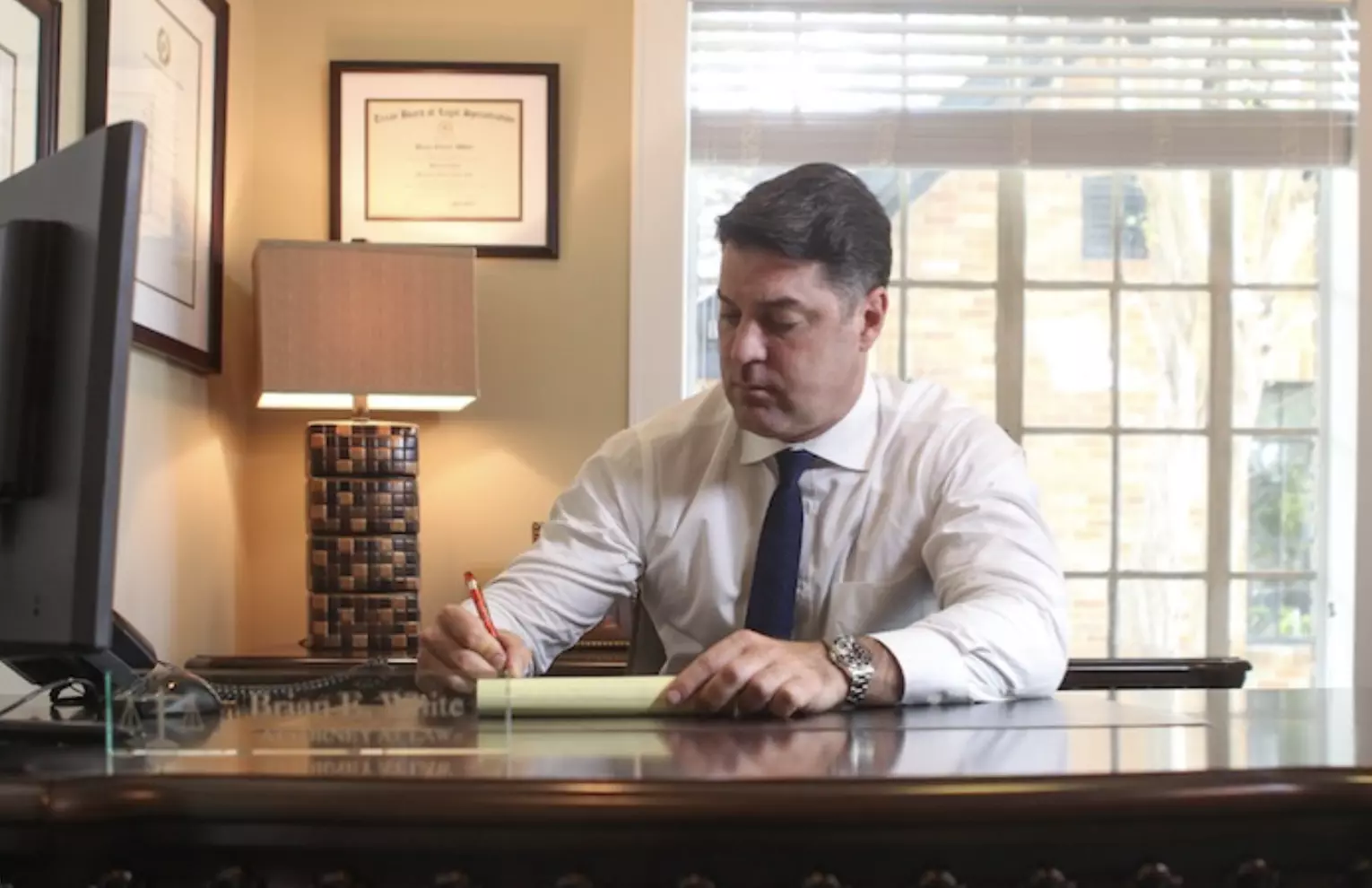 Hello! Who are you and what business did you start?
I'm Brian White. I started the Houston-based law firm, Attorney Brian White Personal Injury.
We are a law firm that primarily handles plaintiff personal injury cases, although we do handle other commercial litigation, insurance bad faith, wage & hour, and financial fraud cases as well.
Through hard work, relentless advocacy for our clients, and extreme preparation, we have grown our business from a boutique law firm with a scrappy reputation to capturing a large share of the competitive Texas legal market capturing tens of millions of dollars of market share per year.
What's your backstory and how did you come up with the idea?
I came up with the idea to open the law firm when I was working for a large international law firm defending cases. I noticed that some law firms handled cases better than others. We knew some plaintiff law firms were settlers and would typically not fully work up cases and eventually would accept less than a maximum settlement, and certainly would not risk taking cases to the courtroom. It was clear that preparing each case for the courtroom and developing overwhelming evidence put pressure on insurance companies to offer far more money on cases.
I enjoyed the fight and knew that I could provide a far better service than many of the opposing lawyers in my cases. I knew that if I had their case, I could obtain far better results. It became frustrating because I saw many lawyers leaving significant money on the table. After all, they simply were not prepared or willing to try the case in a courtroom. So, I decided to take the financial risk and start my own law firm to dominate my cases to obtain maximum results for people.
Take us through the process of designing, prototyping, and manufacturing your first product.
From the beginning, we handled each case as if it were our own. We felt the temptation to do the normal amount of work on cases and accept normal results. However, that would not be satisfying for us, nor providing the service we promised our clients. So, we fought. Although we were just starting, we rejected low or medium offers and continued working up our cases and preparing each one for the courtroom. Sometimes that resulted in very favorable results on its own, other times, we took the opposition to the mat and tried the case to juries.
We learned that while making money on our client's cases is financially rewarding, the personal rewards of seeing relieved and overjoyed clients is the true reward. We love it.
We ended up trying many, many cases, far more than most lawyers. The courtroom provides a venue for the magic to happen and in many cases, it did. Through that process, we built a reputation of lawyers who were not scared to try a case, and if we did, all bets were off!
We won many difficult cases, and the next time we were against the same insurance company, they knew they were faced with a really difficult decision, pay now, or probably pay more later – many times the insurance companies ended up having to pay even more than the amount of insurance coverage because we showed that their refusal to pay was an unwise decision that placed their own insured in a bad position.
Describe the process of launching the business.
Launching the business was very hard in some respects, but very easy in others. We get paid a percentage of what we recover for our client and even finance the case, sometimes for years, until a settlement or jury verdict. This created a situation of very lean years while we were picking up new cases and working them to completion.
We were fortunate to obtain lines of credit from banks that knew our reputation and had an understanding of the future value of our cases based upon the case and the work we were putting in.
From the beginning, we received a good amount of referrals from other lawyers. Many of the referring lawyers are lawyers who worked against us in previous cases. They knew how we planned out our cases, aggressively executed, and would reject the easy way out. They knew we would obtain top results resulting in large referral fees. This was a relatively low-cost case acquisition technique. We continued to grow the lawyer referral business, then began direct advertising.
We learned that as long as we remained focused on obtaining the maximum result on each case, the referral business would grow, and advertising as lawyers with results who actually handle the cases created a steady and growing flow of clients. We now obtain most of our new clients from word of mouth from satisfied clients.
Since launch, what has worked to attract and retain customers?
This is not hyperbole – our results have been the best means to attract new clients. Referring lawyers would sometimes advertise just to send us more cases, former clients would spread the word, as well. We also try to spread the word through our website and SEO efforts.
Sometimes it can be difficult for potential customers to compare lawyer websites to determine who is the best lawyer for their case. It is very competitive and confusing. There are many "advertising only" lawyers out there. So, we have made efforts to provide substantive content as well as advertising our results through blogs and social media.
How are you doing today and what does the future look like?
We have grown our revenues significantly every year. Although we began with significant revenue, we have consistently grown revenue every year. We re-invested a large percentage of our income into the business each year. We invested in the best lawyers and staff, as well as the most sophisticated practice management software money can buy. We pay our lawyers and staff top rates and provide attractive benefits for all employees.
Our lawyers and staff are fully committed to continuing the mission of aggressively handling each case and we have all the knowledge, resources, and financial resources to continue our incredible trajectory. We currently handle important cases across the country and we are considering leveraging our reputation, knowledge, and processes to open additional offices in other cities where we are currently already operating.
Through starting the business, have you learned anything particularly helpful or advantageous?
We have learned that we win cases based upon our preparation and continually striving to maximize each case. We learned that while making money on our client's cases is financially rewarding, the personal rewards of seeing relieved and overjoyed clients is the true reward. We love it.
What platform/tools do you use for your business?
The internet is an excellent tool for spreading the word on our business. Our website is attorneybrianwhite.com. We also use various social media such as Facebook and others to spread the word.
We use various practice management software to provide excellent customer service, manage our cases, identify potential issues. We maintain an extreme organization of our files and utilize databases to extract specific and general information from data created during the pre-litigation and litigation phases of cases. We can access all case information remotely and can work anywhere, anytime. We are constantly evaluating and adopting additional analytical tools to track marketing, case progression, and finances.
We understand that our world is changing rapidly. Jurors approach cases and fact patterns differently than they did even 5 years ago. This requires new ways of telling the story of our cases. For example, depositions used to be recorded solely by a court reporter. That created a booklet that a lawyer could read back in the courtroom. That was ok for the olden days although many lawyers still do it that say. Lawyers began videotaping more depositions years ago.
However, most lawyers use only one camera at the end of a conference room table that captures a witness being questioned, and most times the witness is turning their head to the side to answer a question, so the camera records only a profile view of the witness. We improve on that by placing multiple cameras during depositions, with a camera behind the questioner and the witness.
This way we can shoot the deposition process where the presentation is much more interesting and professional and is more in line with what jurors have experienced watching a television show or a movie. Not only does it hold the jurors' attention, but it also shows opposing counsel that we are different, and planning to take the case to court. Besides, we spend time preparing other multimedia to use during testimony, such as video, google maps, digitally markable documents, and other technology.
What have been the most influential books, podcasts, or other resources?
We have been heavily influenced by the many practice specific books written by David Ball, Don Keenan, Rick Freeman, as well as a relatively unknown gem by Carl Bettinger entitled Twelve Heroes, One Voice – Guiding Jurors to Courageous Verdicts.
Advice for other entrepreneurs who want to get started or are just starting?
Provide an exceptional product or service, belief in yourself, and never, ever give up if you know you are doing the right thing.
Are you looking to hire for certain positions right now?
We are constantly considering additional intake, case managers, paralegals, and lawyers.
Where can we go to learn more?
If you have any questions or comments, drop a comment below!