How I developed Emils Jewellery to one of the leading jewelry brands on Instagram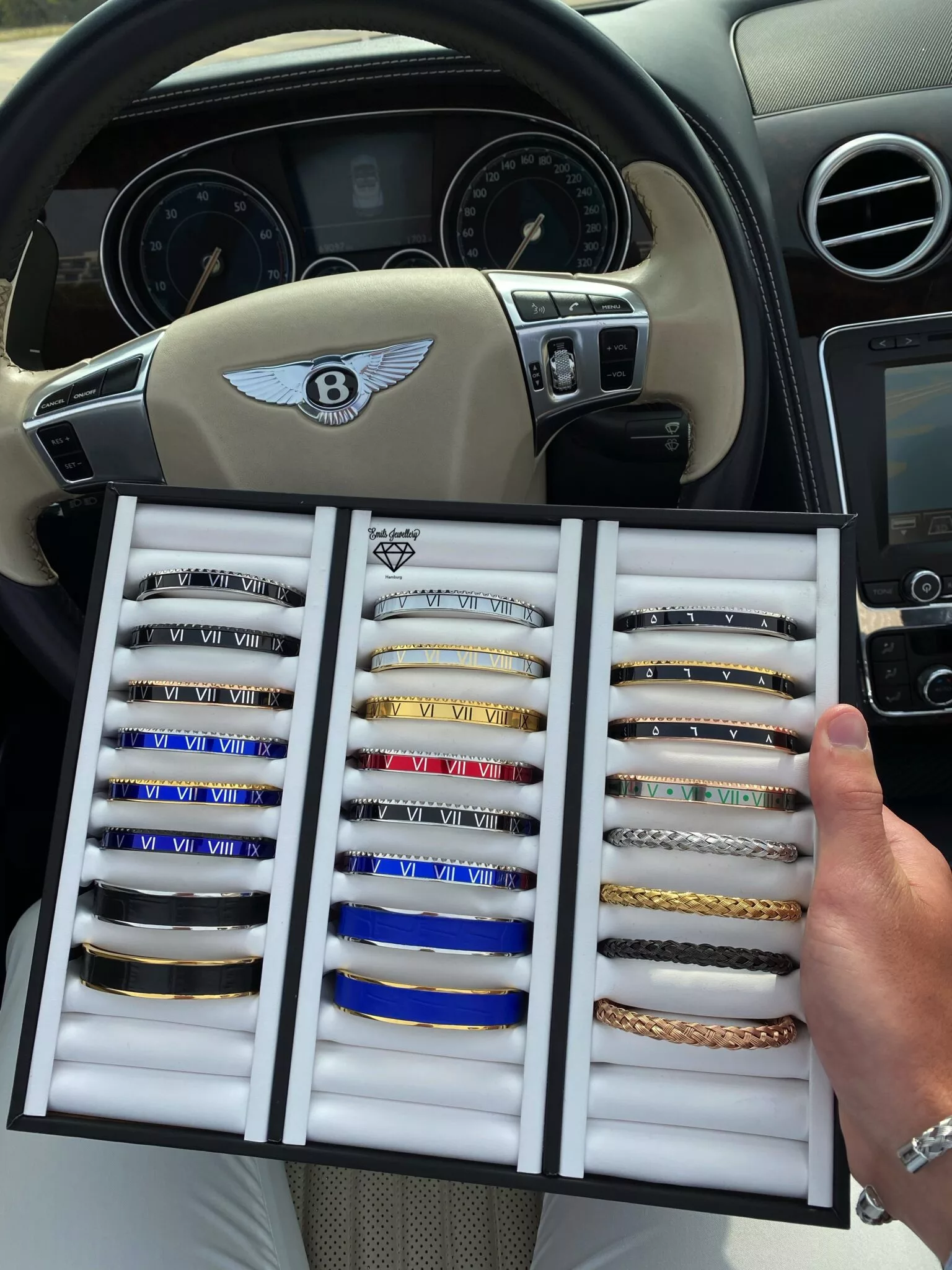 Emil Chismatullin is a german business owner and jewelry designer. He found his jewelry company Emils Jewellery when he was 21 years old.
With customers in over 70 countries and over 190.000 Instagram followers he has one of the leading jewelry brands on Instagram
So great to meet you! Please tell us a little about yourself and what business did you start?
Hi, nice to meet you too. I am Emil Chismatullin and I am the founder and CEO of the jewelry brand Emils Jewellery. I am from Germany. The business I started is basically a designer jewelry brand with affordable prices. My goal was to offer beautiful and stylish bracelets without paying premium prices.
We sell all our pieces through our online shop: emilsjewellery.com and advertise them on Instagram. For me the quality was always very important, that's why all our products are proofed and designed in my hometown in Hamburg so we only offer the best quality.
What's your backstory and how did you come up with the idea of Emils Jewellery?
The first time I had the idea to create a jewelry brand was when I was 16 years old and started finding my own style. The main problem was that I didn't have enough money to buy all the beautiful pieces I wanted. That´s why I wanted to produce my own pieces, but it took me 5 years to finally start.
I wanted to finish school first and concentrate on university, but soon I noticed that it's not exactly what I wanted in life. Then my already 5-year-old idea came back to my mind and I started working on Emils Jewellery. The company name comes from my name because I wanted to give my brand my personal touch.
Describe the process of launching the business.
The first thing I did was designing the first bracelets. The first design was the Speed bracelet which is a bestseller until now. When I had the design I knew this will be perfect to enter the market and get my brand on the map.
I never wanted an investor, because I wanted to build the company on my own and with my own money. So I had to work after university to save enough for the first production. I talked to different companies who could make my vision a reality. After long and intense talks I finally could produce the first 20 pieces.
I posted them on Instagram and the first pieces sold out very fast. I knew I was on the right way so I invested all the profit on more products and new designs and this process I repeated again and again.
Since launch, what has worked to attract and retain customers?
I think the best way to attract customers was our Instagram channel. No one knew my company so I had to build a few followers first who would love my style and my products. The people loved the style of the bracelets and I made the first sales.
I had so many amazing customers who supported me and my business a lot. They reposted my style and also posted their style with our bracelets on their pages. That helped me getting more and more attention on social media. I want to thank all my customers and supporters who helped me spread my products. It would not be possible without you!
Making the first sales was a great feeling, but I knew the work just started. To retain the customers is the way harder part. To achieve that we had to offer the best possible customer experience. So we needed the highest quality products, fast delivery, and fast answering support service. Support is so important when selling online. We always answer as fast as possible and also as detailed as possible.
We also try to answer in the native language of the customer if possible. As we sell worldwide it's important to communicate with the customers in the easiest way for them. We also offered different languages in our online shop so it's easier for the customers to understand the details about the products.
What is your main tactic when it comes to making more people aware of your brand and engaging your customers? How did your business stand out?
We invest a lot in social media marketing. Most people these days get their inspiration from social media and influencers. Also, we work a lot on our own social media. We are showing different styles and possibilities to wear our products.
I never wanted to only make a catalog on Instagram with the products only. We try to show a lifestyle. Like in a fashion magazine. We also often repost customer pictures to motivate more people to show our products on their pages to their friends and followers.
I think our company stands out with our special designs, the communication with the followers and customers and our fast shipping. We ship out all orders on the same day or the next day
How are you doing today and what does the future look like?
It's my 5th year in the business and it's going very well. We are growing every year. Designing new products, attract new customers, and getting bigger and bigger. In the future, we want to try new pieces basically. You should always look for new trends to keep your company attractive.
These days the iced out style is very popular and we made a lot of bracelets and chains with this style. We have to look out for new trends and also set new trends. That's my goal for the future. Creating new trends and become one of the leading jewelry companies.
Through starting the business, have you learned anything particularly helpful or advantageous?
Yes, I learned so many things and I am still learning every day. The most important thing I would say is to know that hard work and constancy is the key to success. You have to work and improve every day.
Also, you should also believe in yourself and your idea. Sometimes it may be hard to get out early every day and work for 10-12 hours daily, but that's how the biggest companies were built.
After the first steps, I also learned that you need the right team to grow your business. At first, I tried to do everything on my own. Big big mistake! I had to learn that there are so many important things someone can do way better than me.
You need a good team to reach all your goals faster and easier and always remember: You will win if your whole team is winning! So always be good to your team. Motivate them and keep up the team spirit to achieve all goals together.
What platform/tools do you use for your business?
I use Shopify for the online shop. They have a lot of features to create your individual store. It's a very easy platform with a lot of potential for your business. That helped me a lot because I could focus more on the products and the marketing.
And of course, I use Instagram and Facebook for marketing and keeping in touch with our customers and followers. Social media is the key to success these days. There is no company without a social media account anymore. People use their phones for hours every day so it's the best possible way to target new customers and establish your brand.
What have been the most influential books, podcasts, or other resources?
I had a few amazing mentors who helped me improve my mindset and my business. They were not from the jewelry business, but they were very very successful in their sector. Reading books and podcasts is important, but a personal mentor helped me way more than that.
I can only recommend finding a person who is already there where you want to be and listen to them. You can learn so much from these people and they can answer your questions and give you personal advice. That's for me better than a book or a podcast.
Advice for other entrepreneurs who want to get started or are just starting?
Believe in yourself and your idea. Don't expect too much support from your friends and family. The start of a business is often very lonely so you should prepare for that, but I can only recommend it to everyone. It's an amazing journey and it feels great to get your first sales and customer reviews.
Also NEVER give up! Building and developing a company is full of ups and downs. It will never go only up. Keep working hard, always try to improve, and listen to your customers! They know the best what they expect from you and your company
Where can our readers keep up-to-date with you?
Yes, sure! The best way is through our Instagram: @emilsjewellery our online shop: emilsjewellery.com
If someone has a question about our business or even about his own and need advise don't hesitate to contact us. I will try to help you guys!