How Ross Albers Started A $150K/Month Law Firm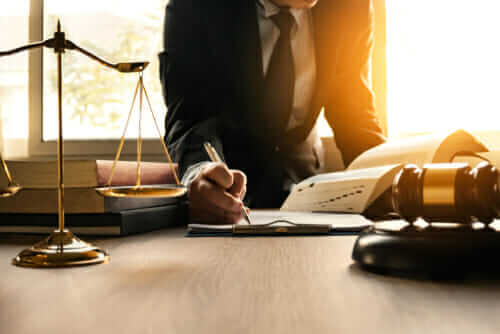 Hello! Who are you and what business did you start?
My name is Ross Albers. I'm the CEO of Albers & Associates. We are a personal and professional development company that happens to practice law. Our attorneys and support staff represent clients in criminal, family, and personal injury matters.
A lot of our firm's growth has been through the merger and acquisition of other practices. We seek out firms where the attorneys want to focus on practice law and not managing the business. We have the vision to create a $150,000,000 business with thousands of people across the country.
What's your backstory and how did you come up with the idea?
Two weeks before I got married, I came home and told my fiance that I was getting fired. I advised her not to worry because I was going to start my own law firm from our dining room table. She was not happy.
My best hires are the people whose past employers are genuinely sad to see them go. My worst hires are the people who I did not contact their past employers.
Her father was a small-town attorney in Vermont. Her father told her and her brother not to marry lawyers. Neither of them took the advice and both ended up with attorneys. I think my wife was worried that I would be bartering my legal services for snowmobile repairs.
Fast forward six years later and we are a seven attorney practice with offices across the greater Baltimore area. My wife and I are happily married with three daughters, too.
Take us through the process of designing, prototyping, and manufacturing your first product.
In the beginning, I did what every criminal defense attorney does when they hang their own shingle: I begged the Public Defender's Office for work. Everyday I was crisscrossing Maryland handling matters for $50/hour.
My business coach, David Kelly of the Growth Solutions Team, advised me to start meeting with chiropractors because they could refer me to personal injury cases. So, in between, going to court for $50/hour for panel work, I was taking meetings with and having lunch with local chiropractors. Sure enough, within a couple of weeks, I started receiving new auto accident clients from my new referral partners.
As we grew, it became necessary to hire a legal assistant to help answer the phone and mail, set up files, and other administrative tasks that were taking me away from signing up clients and meeting with referral partners. Each step of the way, we added another person so that I could begin to focus on hiring talented people, acquiring new clients, and inspiring the folks that were working for me.
Finally, about three years into the practice, I completely stopped going to court. I handed all my clients and new consultations to an attorney within the firm. Now, I could focus on being an owner and not an employee.
Describe the process of launching the business.
Launching the firm was easy. The hard part was figuring out how to get clients.
I quickly created a website, got malpractice insurance, and used Google Drive to create files. Like most entrepreneurs, in the beginning, I created everything myself. Eventually, I started outsourcing administrative, advertising, and other functions of the business because these companies could do it way better than I could.
I didn't borrow any money but did cash in some treasury bonds that relatives had given to me over the years. I used that money to pay for my first advertising company.
One of the biggest lessons I learned from the beginning of starting the practice was that you should start working with an accountant immediately. A good accountant can save you a lot of time and money.
Since launch, what has worked to attract and retain customers?
Online reviews and testimonials have worked very well. We have a goal to get three new reviews a week. People go online searching for attorneys and rely on the opinions of strangers when deciding on a whose website to click. These reviews have been so important to us.
You must make sure that you are not just an employee of a law firm that happens to be named after you. Understand the difference between working "on" your business and working "in" your business.
Pay-per-click campaigns have worked well, too. In conjunction with CallRail, we have been able to pinpoint how well our ads are converting into clients. With this information, we can make spending decisions.
Other attorneys are our best referral source for new clients. I spend a lot of my time setting meetings with attorneys that can refer us to new cases. Building relationships takes time but can be very rewarding.
Recently, we started a Mailchimp campaign to stay connected with our past clients. This is something we haven't been very good at. We need to re-up our past clients into new clients or get them to refer us to their family, friends, and colleagues.
How are you doing today and what does the future look like?
Today, we have six attorneys and multiple locations across Maryland. The future is a $150M law firm with offices across the country employing thousands of people.
Some months we have been profitable and others we have not been. I'm not afraid to spend money to grow. I'm not going to hoard cash. Money is fuel to bring on new people and spend more on advertising and marketing. If I know something is working, then I need to invest more into it.
Going forward into the future I'm really focused on mergers and acquisitions. One merger can easily double my firm's revenue and growth. These deals take longer to do but can be very profitable at the same time. We're actively looking for solo and small firms that want to join our team so that they can earn more, work less, and live a richer life.
Through starting the business, have you learned anything particularly helpful or advantageous?
I've made a lot of bad hires, but I've learned from those mistakes and been able to bring on some very talented people. One thing I learned during the hiring process is to always contact people's references and past employers.
My best hires are the people whose past employers are genuinely sad to see them go. My worst hires are the people who I did not contact their past employers. Turns out people can interview very well, but be a disaster when they join your firm.
I've also learned that it's vital to be tracking how your advertising dollars are being spent and performing. Most people don't do this. They just feel like things are working. I need to see the numbers to believe that they are.
Finally, meet with your people every 90 days for an informal discussion about what's working and what's not working. I find this so helpful. I'm not in the office day-to-day. I'm out focusing on what I need to get done. So, I don't always see or hear what's working and not working in the firm. These discussions helped me refocus people on their priorities and also help them stay on top of any grievances. A lot of times, my people have come up with a great new idea or solution that we implement. That's awesome!
What platform/tools do you use for your business?
Clio. Clio Grow. CallRail.
Clio is our case management system. Our entire law firm is in the cloud. We can access any file and communicate with any client anywhere at any time. We also accept payments via Clio.
Clio Grow is our intake system. It's where we move potential new clients through the sales process. We also can track our referral sources so we know "whose word and whose mouth" new clients are coming from.
CallRail is how we track how our advertising and marketing efforts are performing. Each ad campaign and office location has a unique number that allows us to see how advertising efforts are performing. If you're not tracking it, then you can't change it.
What have been the most influential books, podcasts, or other resources?
I'm a voracious reader. I need books to help me stay motivated and focused on the right things. My favorite book this year is Hunting in a Farmer's World by John F. Dini.
Business owners are hunters, not managers. We take risks and build companies with visions. Farmers manage and analyze. Hunters hire farmers so that they can continue to hunt. You need great farmers, but farmers are not hunters.
Hunters hire, acquire and inspire.
Advice for other entrepreneurs who want to get started or are just starting?
Dream BIG. Take ACTION. Be RELENTLESS.
You must make sure that you are not just an employee of a law firm that happens to be named after you. Understand the difference between working "on" your business and working "in" your business.
You really only have three main responsibilities as a business owner: Hire, Acquire and Inspire. Find humble, hungry, and smart people and get them on your team. Prospect every day for new clients, relationships, and other business opportunities. Finally, define a clear vision and get your people excited about it.
Are you looking to hire for certain positions right now?
We are always recruiting! We need as many humble, hungry and smart leaders as we can find. I'm really looking for attorneys with an existing book of business that want to join our firm and utilize our resources to help them focus on servicing their clients and bringing in new clients.
Where can we go to learn more?
If you have any questions or comments, drop a comment below!